Our Production
All REDDIE products are brought to life in our workshop located in Central Java, Indonesia - where great craftsmanship, sustainability and quality material come together.
When developing the concept for a furniture brand producing quality products to suit specific needs, we approached many factories, but most defaulted to mass production.
Realising our path was less common, we began to develop a team of our own in Indonesia, full of skilled craftspeople, aligned to our values. A serendipitous venture, since both our co-founders, Caroline and Andrew, share Indonesian heritage.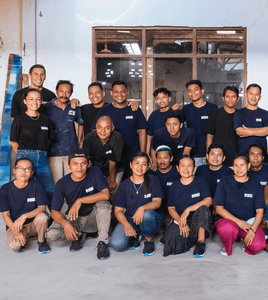 Our People
Our talented team in Java have become our family over the years, and are central to the REDDIE story. Incredibly skilled and innovative, we are fortunate to have the very best craftspeople bringing our products to life. 
The team manages and quality controls the entire production process. Most products and components are made in-house, including woodworking, finishing, assembly, and final checking. Our team is trained in traditional Danish woodworking, a craft passed down from generations - which makes our products very special.
Our Craftsmanship
While our designs are modern, our process takes from the past. We believe in slowing down and learning from original craftsmanship. Our production team is trained in traditional Danish woodworking, so we combine a modern aesthetic with classic detail. Our skilled artisans love to be challenged daily, and take pride in executing beautiful work.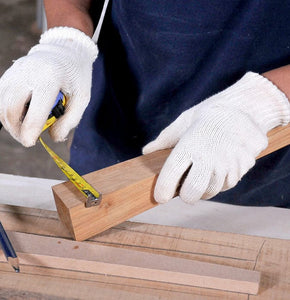 Our Quality
At REDDIE, we strive for quality and transparency. Our expert craftsmanship meets with premium quality materials to achieve the high standard we uphold as a brand. Made to order rather than mass-produced, every product is unique, marked with natural variations and imperfections that we fully embrace. Each piece is one of one.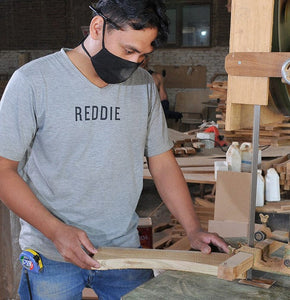 Circular Materials
We beleive in taking responsibility for the materials we use, and what better way to be sustainable than to use materials that already exist. So we use discarded materials for the majority of our product line.
-Our standard solid wood is 100% reclaimed teak wood.
-We recycle single use plastics into table tops and woven materials.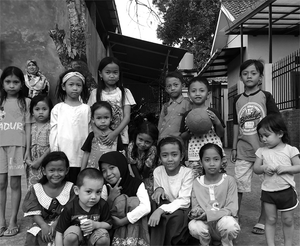 Our Conscience
At Reddie we make to order and do not mass produce. Mass production is not only wasteful due to its processes, but also due to brands having to flash sale in order to rid their products, which ultimately makes customers buy a product they may not 100% need and often throw out. We make pieces that are timeless and will last you a long, long time - which means you throw out less and treasure more, ultimately helping our environment at its most vulnerable time.
We at Reddie aspire to bring cultural change to the industry which we are working towards on a global scale. When you buy with us, you are not only purchasing with a purpose, but are helping local communities and talented craftsman.
(Caroline and Andrew's son Eddie, whom the business is named after, with the factory communities children)