Since launching in 2015, our goal has been to transform discarded materials into the core of our product line. Our switch to reclaimed wood is a major step in the right direction.
For the past 6 months, we have been trialing reclaimed wood with our partners, and the response has been amazing, with most requesting it. As a brand, we have made the decision to make our standard solid wood 100% reclaimed. Our products will retain the same REDDIE refined finish, but they will now be crafted from reclaimed sources.
*You may still request new FSC-certified wood, but reclaimed wood will be our default.
What is reclaimed wood?
Our factory is located in Java, Indonesia, where numerous buildings, homes, and furniture items are constructed using locally sourced Indonesian solid teak wood. Instead of letting this wood go to waste in landfills when discarded, we intercept it and repurpose it for furniture. 
How is it different? Isn't reclaimed rustic?
Our reclaimed is not rustic. It has the same exquisite finish as our new wood with a beautiful grain and minimalist aesthetic, but it also carries the added beauty of its rich history. As a result, you may notice nail markings and patches. The material finish and colouring will be consistent with our current offering.
Sustainable benefits
*We are reusing a resource that already exists. 
 *The carbon footprint of reclaimed wood is significantly less than new wood. 
*We are intercepting products destined for landfills. 
*It does not need to be kiln-dried for as long as new wood and therefore uses less energy.
Is it legitimate?
*We own our production and manage the entire supply chain. This allows us to have a personal relationship with our reclaimed suppliers and can guarantee its origin.
*Reclaimed wood is in the form of discarded building waste before being cut.
*We can provide all documentation for WELLS / Greenstar / LEED related projects. 
See our Andi table top being made in reclaimed solid teak wood.
Step 1
The old solid teak building planks were retrieved from demolition sites.
(This was taken during our last visit.)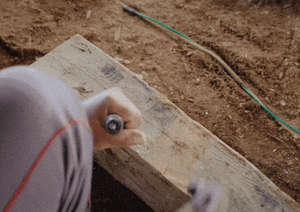 Step 2
The planks are cleared of nails.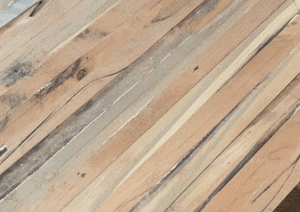 Step 3
The table top is assembled then patched (if necessary) and sanded.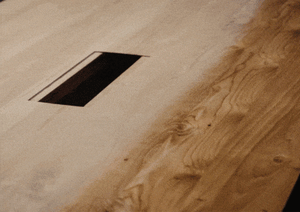 Step 4
The table top is then finished with our standard refined coating.
Step 5
The finished result is just as refined as new wood with the added natural markings of its rich history. You may see nail markings and patches, which are part of its character.