Our Production Team
We have handpicked the very best team to create our products. The team manages and quality controls the entire process. We make most of our products in-house, which includes woodworking, finishing, assembly, and final checking etc. Our team is trained in traditional Danish woodworking, a craft passed down from generations. 
For skills such as leatherwork, marble and metalwork we support smaller factories which allows us to help other smaller businesses grow and support the local community around us.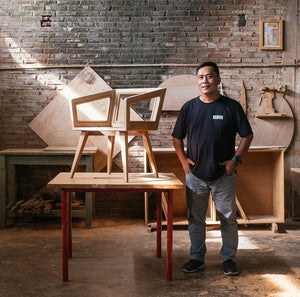 Pak Gatot
Pak Gatot is our head of production. We couldn't be an Australian based business without him. He allows us to focus on our Australian and global clients while he seamlessly runs our entire prooduction in Indonesia. He is the one that makes sure our products stand up, are safe, and are made to last a lifetime. He has been working in the furniture industry most of his life at large American and European production houses before he joined Reddie. He is a wonderful leader, and with such a difficult business to run, he never loses his calm. 
Pak Nur
Pak Nur is our head of operations. He makes sure our factory runs as efficiently as possible. He sources our sustainable timbers and ensures that our prooduction team is using every part of the log with nothing going to waste.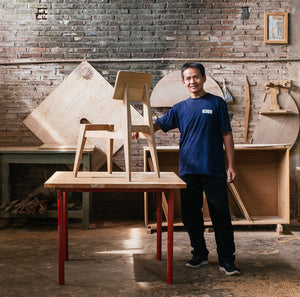 Pak Jono
Pak Jono is the most amazing craftsmen. With over 30 years in woodworking he understand extremely detailed carpentry. He leads a team of up to 50 carpenters at REDDIE but when ever he gets a chance he loves getting his hands dirty and physically making a product. He loves making complicated details look simple.
Pak Janji
Don't be fooled by his youthful looks! Pak Janji is a ninja at metal work. We discovered him when he had a small 3 person workshop in a nearby town. We approached him to help build out our metal team, since then he has grown our metal team from 2 to 20. He loves working with metal, stainless steel and brass and there is not design too difficult for him to master.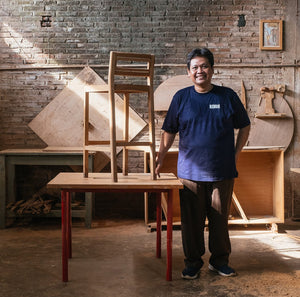 Pak Ifin
Pak Ifin is our quality control manager. Nothing, we mean nothing gets past him. He is the leader of 7 quality control managers checking wood quality, join quality to metal finishing. He has the sharpest eye in the biz.
Ibu Mun
Our head of packing super star. Mun and her team make sure each box is packed perfectly, using minimal waste whilst withstanding heavy movement. She is always super calm under pressure and is an amazing team leader who effortlessly coorginated the packing and moving of boxes in and out of containers.