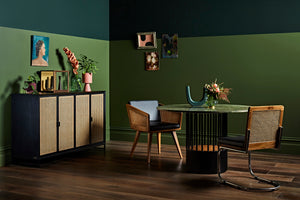 Behind The Collection
Central Java, Indonesia: Home to our factory, incredibly talented craftsman and our quality materials. During one of our recent visits to Java, we were inspired by all of the natural beauty that surrounded us.

The rich greenery, the sandy coloured streets and the burnt orange tones that seep through the teak wood. The essence of all this natural beauty evoked our inspiration for our new collection - the "Java Collection" - our ode to the beautiful region that is the birthplace of all of our products.

Our collection upholds attention to the beautiful materials found in the region, including Solid Teak Wood, Hand Woven Rattan and a rich, rare Forest Green Marble that we have used for the top of our gorgeous dining table.
Suzy Buffet
Suzy the Rattan Buffet Unit was designed with great love. She's built with solid teak and hand woven rattan door fronts, creating a  beautiful facade to a simple storage solution.  She also has 4 useful compartments with an adjustable shelf each. She' s a great size and a big show off. 
Willy Cage Dining Table
Willy over here is definitely going to be the topic of conversation over dinner. He's that mid-century style round dining table that those of you who appreciate a statement piece. The table features a gorgeous Indian Rainforest Green stone,  brought to life with hues of green, brown, and orange, creating a striking colour way. His base features a strong yet elegant wire frame created by an architectural series of rods welded to a rounded plinth, wrapped around a circular solid teak wood piece. 
Jay Rattan Dining Chair
Our ever so popular Vinny the Jay Rattan Chair is a beautifully handcrafted rattan and solid teak dining chair, with gorgeous angles structuring his arms and legs. He features 2 layers of rattan on all sides and is cushioned with Italian leather, with a removable back cushion. 
Rosie Rattan & Vinny Dining Chair
With the popularity of our Vinny Jay Rattan Club chair, we needed to compliment him with a cantilevered version. Rosie the Rattan Cantilevered Chair features a double sided woven rattan back and a fabric cushion seat that is supported by a stainless steel cantilevered base. 
Our Vinny dining chair is one of our first designed pieces and we feel compliments this new collection perfectly.
The ode to our birth place, Java.  Bringing the beauty of Java to you.