Projects: Sevens Speciality Coffee
If you're walking along the corner of King and George St in Sydney, you'll spot this gem – Sevens Speciality Coffee We had the pleasure of working with the owner, Zach Hiotis to create this beautiful space. Zach wanted to celebrate the characteristics of the existing space, especially the high ceilings which brought in great light and warmth.
 He had a vision for an earthy space filled with natural materials that would compliment a minimal and consistent colour palette. 

Zach chose to use a combination of standard and custom pieces designed specifically for the space. Along with the Jay Rattan Chairs and Vinny Bar Stools, we created a three piece drum table, indoor/outdoor pedestal tables, workbenches, storage and banquet seating. We also used small and large Billie Bowls for serving.

So, if you're at Sevens for a coffee or a bite to eat, be sure to have a peek at the furniture too!
Featuring: Jay Rattan Chair; Vinny Stool; Indoor Pedestal Tables; Billie Bowls and Banquet Seating
Featuring: Outdoor Pedestal Tables; Three Piece Drum Table; Vinny Stools; Jay Rattan Chair & Banquet Seating
Featuring: Workbench; Three Piece Drum Table and Vinny Stools
Andrew & Caroline with Zach at Sevens Speciality Coffee, Sydney CBD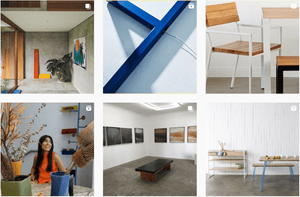 For more information contact: info@reddie.co
Get a dose of REDDIE on your Instagram feed @reddiedesign
Images Courtesy of @sevenscbd on Instagram