NCW: Non-Corporate Workstation
By now, we're hoping most of you have heard something about our workstation - whether you came to our NCW Launch Party or if you have been keeping up with us on Instagram (@reddiedesign). 

Our NCW Launch Party last year was awesome, so thank you to everyone who came to celebrate with us! We hope you had just as much fun as we did. Our girl NCW definitely got a lot of love, which we are so happy about! 

For those who didn't get to make it, this update is especially for you! And for those who did, here's some more information on our workstation to keep you in the loop and up to date. 
About NCW
NCW is all about having a little fun at work. She's unapologetically simple and caters for the modern office. Customise her by your choice of laminate/wood tops, frame colours and your pick of a rattan or
perforated metal divider. She's that modern workstation that will seamlessly fit into your work space.
Gallery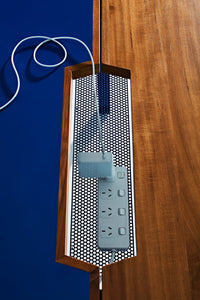 Cable Management
We created the NCW with all small things in mind - we know how annoying the wire situation can get. So, we've allowed for cabling to run through the legs to keep everything nice and clean, with no tripping or tangling involved! Super easy and super functional. 
Cable Tray
We've also given the important stuff a little more attention. The much loved cable tray is made from perforated metal, so it isn't long forgotten. Including an integrated power box is an option too.
This gorgeous birds eye shot captures the angles we created for the cut out. Detail is everything.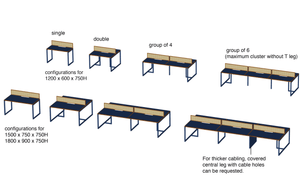 Sizing
The NCW was created with both small and large spaces in mind. With 3 different size ranges, you'll have no issues trying to make the NCW work into your space.  Our sizing options are as listed below:Desks *750h1200w x 600d / 1500w x 750d / 1800w x 900d Dividers 250h / 350h 
Starts from:$850 per unit excl. GSTcontact info@reddie.co for pricingNote: Configuration options range from single to clusters of 6.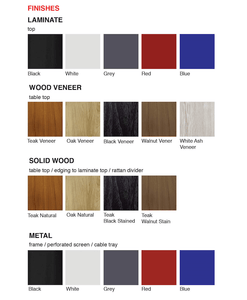 Finishes
And just like all our other products, the NCW is customisable by material and colour. View our many options below:
NCW Setting
The fun doesn't stop at customisation.  There are also many different settings that can be created with the NCW. Same parts, different settings. You are only limited by you're imagination.

Here are some of our favourite options: